Capcom continue de monopoliser l'attention dans le monde du jeu vidéo en ce début 2021, enchaînant prise de paroles et sorties tout au long du semestre. Si la première cartouche de l'éditeur japonais cette année était Ghost'n Goblins Resurrection, les choses sérieuses ont véritablement commencé avec Monster Hunter Rise et se finiront (sauf annonce entre temps) avec Monster Hunter Stories 2: Wings of Ruin, sans oublier la sortie de Resident Evil Village. Outre les nombreuses présentations en direct pour informer des mises à jour des jeux déjà sortis ou bien des fonctionnalités pour ceux à venir, l'éditeur nippon se montre très bavard pour ce qui est d'informer des ventes de ses titres à succès.
#MHRise has now shipped over 7 million copies worldwide, and we couldn't have done it without you! Check in with Senri the Mailman to claim Kamura Pack 3. 💌

As always, thank you so much for your continued support! ❤️ pic.twitter.com/3etXEx33cN

— Monster Hunter (@monsterhunter) May 28, 2021
Le 28 mai 2021, Capcom informait donc avoir écoulé 7 millions de Monster Hunter Rise, soit deux mois après la sortie du titre sur la plateforme hybride de Nintendo. Comme toujours, l'objet de comparaison afin de mieux comprendre ces ventes est bien évidemment le dernier jeu de la série, Monster Hunter World. L'opus Switch reste donc toujours en retrait par rapport à son ainé qui approchait des 8 millions de ventes avec une période de commercialisation équivalente. Malgré tout, la performance de Rise reste admirable étant donné que ce dernier n'est sorti que sur une plateforme comparée aux PS4 et Xbox One de Monster Hunter World (graphique par @ChartsJapan).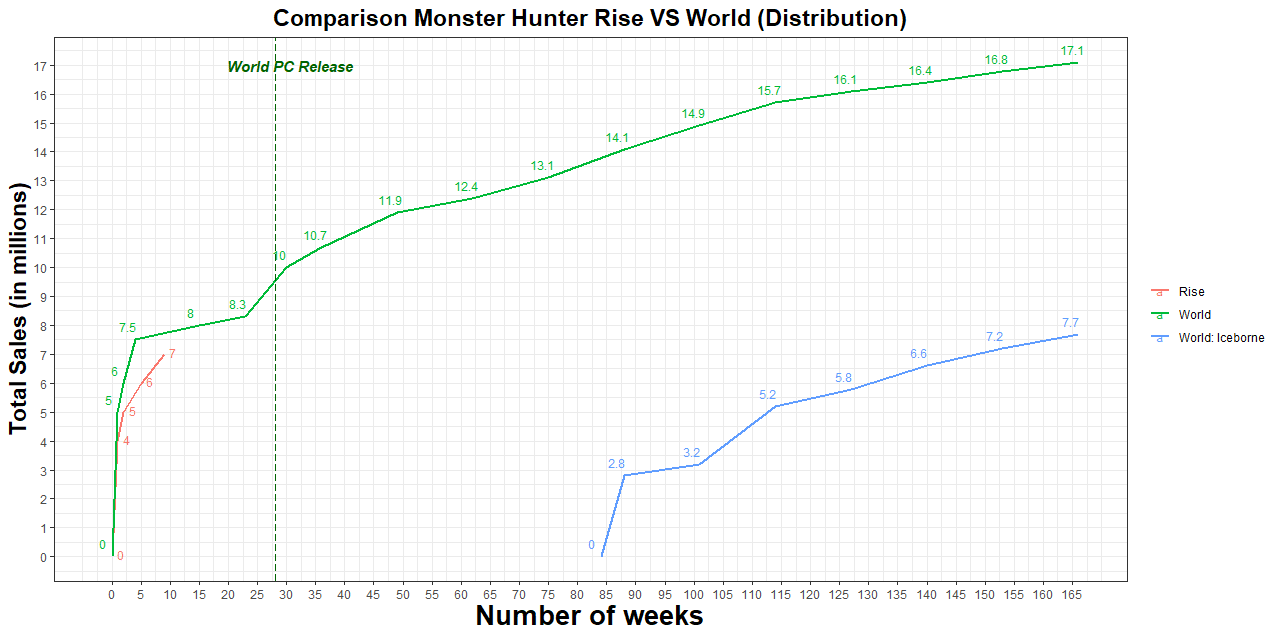 Comme à son habitude, Capcom remercie les joueurs pour l'intérêt porté à son jeu en offrant un pack d'objet à utiliser en jeu. Ce "Kamura Pack 3: Big Hit Celebrations" est exactement le même que le pack numéro 2 et contient 30 mégas potions, 30 steaks bien cuits, 10 barils de bombes ainsi que 5 potions augmentant l'attaque et la défense du joueur. Afin de profiter de ces items bien utiles pour partir en chasse, il suffira d'adresser la parole au PNJ "Senri le postier" dans le village Kamura tout en ayant la récente mise à jour 3.0 installé sur sa console.